Kilala Japan Guide ロゴデータ
Kilala Japan Guide Logo
Kilala Japan Guide Logo Guideline
Introduction
Kilala Japan Guide logo is owned by KILALA COMMUNICATION.
When using Kilala Japan Guide logo, please adhere to the standards presented in this guideline.
Please be sure to use the logo guideline for actual use. Do not modify or distort Kilala Japan Guide logo in any case.
In case of inquiries, please contact here.
Logo Access
Please download the file here.
Logo Instructions
Kilala Japan Guide logo has two forms, including horizontal shape and vertical shape that can be used black-on-white or white-on-black. Please use properly according to the purpose.

Black-on-white logo can be modified to three diferent sizes, both horizontal shape and verticle shape. However white-on-black logo has only one size. Please adjust the size accordingly.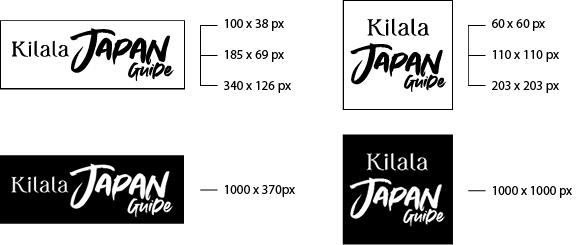 All forms of Kilala Japan Guide logo must have a designated amount of clear space on all sides unoccupied by other elements. This is to ensure the logo's visual clarity and e¬ffectiveness.

Please do not adjust the logo size smaller than the minimum size as below.
The logo must be used as is and not be altered in any way.

Reference of using Kilala Japan Guide logo
Please refer to the link below.
http://japanguide.kilala.vn/